Miha Robnik je veselje do kuhanja in ljubezen do sinov združil v zmagovalno kombinacijo – vlog pod imenom »Dans fotr kuha«
Prlekija-on.net, torek, 7. april 2020 ob 14:40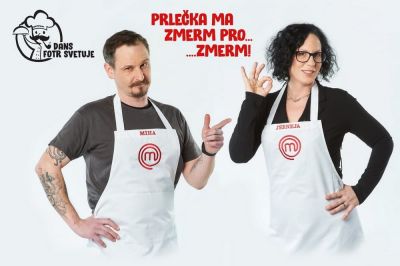 Zgornjesavinjčan Miha Robnik, očka dveh sinov in ljubiteljski kuhar, je svoje znanje medijske produkcije, veselje do kuhanja in ljubezen do sinov združil v zmagovalno kombinacijo – vlog pod imenom »Dans fotr kuha«, ki ga danes redno spremlja že več kot desettisoč ljudi.
Zagotovo ste že slišali za »fotra«, ki nas zabava s preprostimi kuharskimi recepti, v katerih ne manjka humorja, šaljivih zgodbic, govoreče mačke Luci in ribe Mirkota, ki komentirata dogajanje v kuhinji.
Med drugim nam je vsem pokazal kako se pripravi najboljša riba – svinjska ribica, praznična štajerska potica, prleške ribrce s prleškim vinom seveda, zamaščena jetra, svinja pijana… najbolj odmeven pa je bil njegov recept za vroče picke…sreda, 4. marec 2020 ob 18:24
---
Pod projektom Dans fotr kuha je podpisan Miha Robnik, ki je s svojim vlogom pričel praktično po naključju, s promocijskim videom za Narociribe.si, v katerem je predstavil recept za ribe in naletel na odlične odzive. Glavni razlog in motivacija za ustvarjanje vloga pa sta njegova sinova Adam in Samo, saj se med kuhanjem zabavajo, pogovarjajo in seveda kaj dobrega pojejo.
Njegova želja tudi kuharska oddaja na televiziji
Ravno to je sporočilo, ki ga Miha želi prenesti še posebej med vse samske očete in tudi družine: "Kuhajte s svojimi otroki, saj je to odličen način za druženje, povezovanje in kvalitetno preživljanje prostega časa!"
V tem trenutku se je Miha lotil še enega izziva: je tekmovalec v oddaji Masterchef, kjer zastopa Zgornjesavinjsko dolino, z željo, da iz tekmovanja odnese čim več novega kuharskega znanja, zanimivih receptov, poznanstev in zabavnih anekdot, ki verjamemo, da jih bo v prihodnje delil tudi z nami! "Moja velika želja je, da bi vlog nekoč dobil tudi nadaljevanje – »čist ta pravo« kuharsko oddajo na televiziji", pravi Miha.
Njegov video kanal že krepko presegel milijon ogledov
Njegov youtube kanal Dans fotr kuha je že krepko presegel prvi milijon ogledov, ideje za kuhanje pa lahko najdete med več kot 40 posnetki, med katerimi so najbolj gledani: Vroce picke, Piškim dim, Svinja pijana, Zamaščena jetra, Alpske ostrige in še bi lahko naštevali. Spremljate ga lahko na vseh družbenih omrežjih in youtube kanalu ter na njegovi spletni strani fotrkuha.si, kjer so objavljeni vsi recepti, dogodki in govorice o fotru…
V časih, ki jih preživljamo, se vedno bolj zavedamo pomena domače kuhinje, lokalno pridelane hrane in kosila v krogu družine ali prijateljev; vse to je tudi sporočilo, ki nam ga predaja Dans fotr kuha.